Published on February 18th, 2013 | by msalt
Vivian Maier: "I'm sort of a spy."
Daoist philosophers emphasize doing things for their own sake, not seeking fame or glory. By that standard, Vivian Maier was a highly enlightened Sage.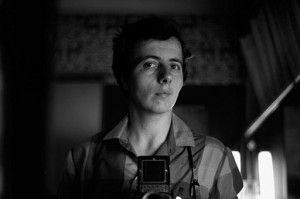 While working as a Chicago nanny for 40+ years, she took over a hundred thousand high-quality B&W street photographs, plus color shots and 8mm and 16mm movies. She did not exhibit any of these, or even make prints. In fact, she didn't even develop a lot of them. Her collection contained only 3,000 prints — and 700 undeveloped rolls of film.
These are gripping, candid shots of often gritty street life, and her story is nearly as compelling. According to the kids she watched, "She was a Socialist, a Feminist, a movie critic, and a tell-it-like-it-is type of person. She learned English by going to theaters, which she loved. She wore a men's jacket, men's shoes and a large hat most of the time. She was constantly taking pictures, which she didn't show anyone." She had no family, no children, no romance that anyone knows of, no close friends. She worked for one family 17 years, and didn't make or receive one phone call during that time. But the children she cared for remember her fondly as opinionated, strong and fun.
The only reason we know of her work at all is that a 26-year old real estate agent named John Maloof bought it blindly for $380 at an auction in 2007, after Maier failed to make payments on her storage locker. She died two years later, just as Maloof was starting to look through them and trying to track her down. Since then, her photos been exhibited in New York, London and Los Angeles. Two books have been published, and a documentary is coming soon; the video clip above is the trailer for it.
I could go on but I'd rather have you look at her work. Here is a blog by Maloof with a lot of great photos. The official Vivian Meier website has more, but loads kind of slowly.
Her range is astonishing, from urban grit to vintage glamor, very human moments to high abstraction, street urchins, rich folk, self-portraits and freaks, in her neighborhood or around the world.
It's all pretty amazing, showing she was strong in brain, eye and heart simultaneously. I can't wait to see this documentary.