Sports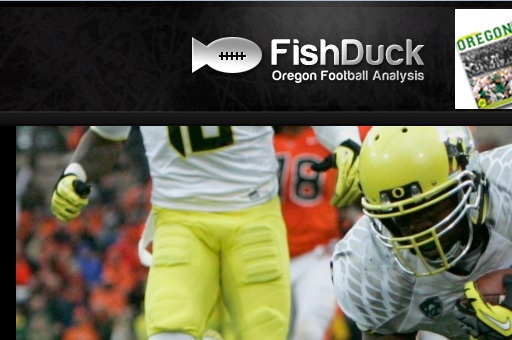 Published on June 6th, 2013 | by msalt
0
Fish(Duck) and Chips
Longtime readers may have noticed more than the usual amount of football discussion here at Taoish lately. There's a reason for that. Starting tomorrow (June 7th), I will be writing a weekly column covering Chip Kelly and the Philadelphia Eagles for the leading Oregon Ducks blog, FishDuck.com. (And there's an even bigger, related announcement coming, but not just yet.)
FishDuck warms my heart because it's a DIY project that has grown to become a substantial presence in sportwriting. The goofy name comes from Charles Fischer, the founder, who was at first simply an avid fan arguing on message boards (like so many of us). FishDuck was his online handle, and when he decided to form his own website for detailed Ducks strategy and play diagrams, his web guy talked him into using it (instead of some respectable and boring).
FishDuck has acres of videos and diagrams analyzing and unpacking the innovative offense (and defense) developed under Chip Kelly. If you're a hard core fan, it is THE place to go.
Now that Chip Kelly is shaking up the Eagles, and the rest of the NFL is wondering what's about to hit them, East coast sports reporters are racing to FishDuck to get up to speed on the Inside Zone Read play and the Straddled Triple Option. I'm honored to be part of the team.
Mark