Sports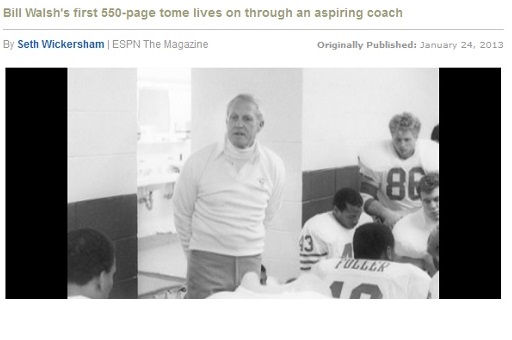 Published on January 31st, 2013 | by msalt
0
Bill Walsh's Tragic Success
Sometimes you can be right, and completely wrong at the same time.
Just in time for the Super Bowl, ESPN The Magazine has a great article on the San Francisco 49ers' legendary coach Bill Walsh, who invented the West Coast offense, won three Super Bowls with Joe Montana and Jerry Rice — and never enjoyed a minute of it. (The problem, in a word — control.)
After he retired, returned to coaching, and retired again, Walsh wrote an epic book that has become the secret bible of football: "550 pages, 1.8 inches thick, 3.2 pounds, loaded with charts, graphs and bullet points." It sold out its first small run of 36,000 copies, but there was no interest in a reprint. It now sells — used — for over $1,000 a copy, and sits on the shelf of nearly every football coach. And yet, it introduces you to a life of misery and pain — even if you win.
In a future post, we'll present a different, far more Taoish coaching paradigm: that of Chip Kelly, who just left the Oregon Ducks to take his surprisingly philosophical approach to football into the NFL, as head coach of the Philadelphia Eagles.
For now, enjoy Seth Wickersham's gripping article on Walsh and his magnum opus. He may be Goofus to Chip Kelly's Gallant, but it's a great read.